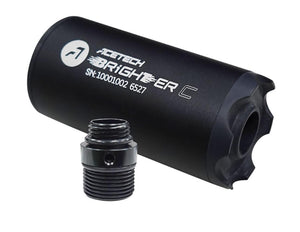 AceTech Brighter C Compact Rechargeable Tracer Unit
The world's first patented design without switch, power on by shaking
With IP64 protection, enjoy the shooting experience in sunny or rainy days
Supports both green luminous BBs and gel BBs, perfectly for all Airsoft night games
Compact and weighs only 32 grams, making it easy to carry and occupying no space
It can be used as a standalone tracer module or put into a mock suppressor
Lithium battery design, can supply 20,000 rounds with one charge
Support up to 35PRS burst speed while still being brighter than ordinary illuminators
Mounts to 14mm CCW male rifle barrels
Mounts to 11mm CW female pistol barrels (with included adapter)
AceTech Brighter C Compact Rechargeable Tracer Unit
Works well, no power switch
Works quite well with green bbs, no switch though so it tends to like staying on. just charge it before needed.
Brighter C
A very light unit, made from a polymer, the Brightly C definitely stands up to its name in delivering bright BBs down range. The only draw back is the lack of on/off switch (uses a shake awake function), however, placing a pencil in the unit and keeping it there will keep the tracer unit off.
Very happy with the unit so far and the price on this site is better than most other sites!
Best Tracer
Best tracer unit i have tried yet!! Offered for the best price i have seen on any site!
---
We Also Recommend
---