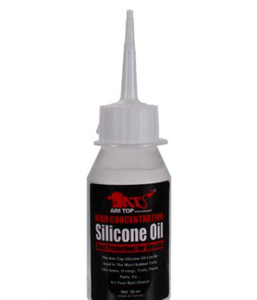 AIM Top High Concentration Silicone Oil (50ml)
This Silicone lubricant from suitable for all Gas and Electric internal components. Silicone oil has a wide variety of uses including, but not limited to, Cylinders, Gas Blowback units, Valves, O-rings, Gears, Propane Adapters, Tools, Nozzles, Trigger mechanisms, and more. Voted one of the best silicon oil lubrication in Taiwan and Japan by advanced gamers and now made available to you by Evike.com! Much thicker concentration of lubrication over common spray cans which means they keep your metal parts greased for a longer period of time!
High end Polydimethylsiloxane Oil
High viscosity gun oil without petroleum distillates that degrades plastic and rubber.
Resistant to water, non toxic, harmless to health.
Wide temperature range and superb thermal stability
Excellent plastic & rubber compatibility
Low surface tension
Excellent wetting properties
Excellent oxidation resistance
Precision application tip
Works great with GBB and propane adapters.
Cap snaps in place to fit neatly after usage.
Works for rubber parts, gears, o-rings, tools, valves, plastic parts...ect.
---
We Also Recommend
---