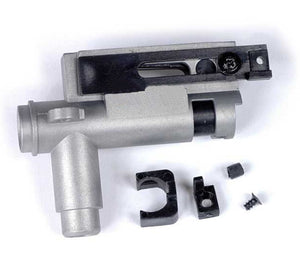 Matrix One Piece Metal Hop-up for AK Series
OEM metal hopup unit, used by many major AEG manufactures. For AK47, AK74, AK47S, AK47U, SVD, RPK and other compatible AK series AEG
The one-piece structured die-casting improves firmness of the chamber and stabilizes the muzzle velocity. At the same time, it fits tightly to the barrel base to keep the chamber being centered.
Compatible with ICS, G&G, JG, Tokyo Marui SRC, Matrix, Echo1, Classic Army, CYMA, DBOYS, VFC and other compatible brands.
Amazing product!
I had gotten an AK from a different retailer that had come with a non functioning hop up in it. This metal hop up unit was able to not only replace the broken one but also came as a huge upgrade for a small price. The owner of the shop was also incredibly helpful and got my gun up and running again. The hop up would be an amazing investment for anyone running an ak style gun and will definitely improve their guns capabilities and longevity.
---
We Also Recommend
---